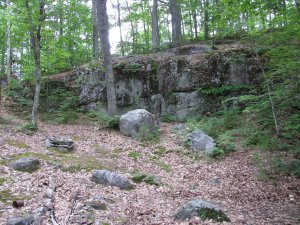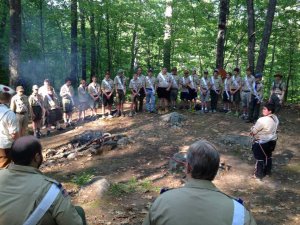 Mel Williams and Frank Bailey were at Wilderness one day and noticed a tall tree on a nearby hilltop. They went exploring, and came across the site we now use, with its impressive cliff overhanging. Clyde was a part of the group which accompanied Frank Bailey on a search for a better site. When the impressive site, still used today was discovered, the ceremonies were moved there. The practice was only then begun of having a trained ceremonial team whose members had memorized their parts.

The presence of three maple trees growing in a clump against the cliff seemed to lend special significance to this new site, and for many years candles were hung on those trees as part of the site decoration. The original entrance to this new site was up a very steep path which entered the circle at the right of the cliff.

The Hinds circle was expanded to its present size in the early 1960s, when ordeals commonly were held with more than one hundred candidates, due to a temporary relaxation of the rules for election. Clyde Nason, Jr., who had been Lodge Chief in the early 1950s, was asked to help in enlarging the circle. He selected the new trail and we closed off the old, steep approach to it. The trail, still in use today, was dedicated in 1999 to Bruce Nunan, a brother from York Chapter who truly represented the spirit of an Arrowman. Even with physical hardships, each ordeal he attended, he made the strenuous climb to the ceremony site. A trail marker at the entrance to the ceremonial grounds marks the dedication.

The cliff at Hinds was first decorated in 1952 by Bob Weatherbee, a staff member and art student, with the help of other staff members. The design included a snake, whose body followed the horizontal cleft in the rock, a thunderbird, a sunburst, and eventually three picture symbols representing our first three Vigil Honor members.

For more information on the Camp Hinds Ceremonial Site click "Members Information."